Gifts You Can Give Your Car This Season
Your Car is part of your family too! As the year comes to an end, don't forget to include your car to your gift list as this trusty piece of metal gets you around every day. The one that keeps you warm, the one that gets the kids to school, the one that lights the way is a very important part of what makes you whole as a person.
While trying to get your car a gift, it is important for you to assume that your car has a gender. And let's assume you've christened your car. Maybe that name is one that your spouse wouldn't let you use one of your children. If this is you, you can bet that that much-loved car has its' own wish list for the holidays.
If you're straining your brain trying to figure out what to get them for Christmas, here are some gift ideas that both you and your car will absolutely adore:
---
Fobo Tire Plus
Properly inflated tires wear more evenly, thus increasing the lifespan of your rubber as well as fuel efficiency. Rather than using a handheld pressure gauge to ensure your tires are properly inflated, however, the Fobo Tire Plus system uses a series of Bluetooth gauges that relay this information directly to your smartphone. Fobo will alert you when your tire pressure is getting too low directly on your phone. The app even provides a straightforward tutorial, making installation a breeze.
---
Automatic
Automatic is a device that plugs into your car and sends a ton of vehicle-specific information to your smartphone or computer. It will give you tips on how to improve fuel economy based on how hard you accelerate or brake, find your car, alert authorities if you get in an accident, check engine lights, and engages the flux capacitor in your vehicle. For those that drive a lot and are always looking for ways to save on fuel, this nifty little gizmo might be just what you're looking for.
---
Tile Mate
Sometimes, our forgetfulness costs us thousands over the course of our lifetimes. Unsurprisingly, one of the most commonly misplaced items is our car are keys. Thankfully, the Bluetooth-equipped Tile Mate easily slides onto a key chain, allowing you to track the whereabouts of your keys using an accompanying mobile app — even if they're locked inside your car. Tile is one of the best Bluetooth trackers on the market, and it's compatible with several infotainment systems. While shopping for a gift for your car, you should try as much as possible to get this device as you may need it in the future.
---
Dash Camera

A dash camera is an exceptional tool for determining fault after a car accident, and the Toguard Dash Cam is our top pick. These devices capture images in crystal-clear 1080p video save the video on impact and will record your GPS location to show when and where accidents occurred. It keeps you safe, it's compact, and it even responds to voice commands.
---
Backseat Organizer
Once you've amassed an arsenal of useful gadgets, you'll need a place to store, them. Thankfully, Ride Beauty's apt-titled Backseat Car Organizer is a solid storage option for families and hoarders alike. The unit is made of durable mesh and polyester and comes with an array of compartments and flexible pockets. The adjustable headrest strap also easily fastens to virtually any seat back, allowing you to keep all of your belongings within arm's reach.
---
Trip Worthy First Aid Kit
Whether it's a leisurely drive to the beach or a prolonged journey to another state, it is mandatory to have a first aid kit in your car in case of an emergency. This comprehensive kit should include both premium medical supplies and survival gear into a compact, durable carrying case weighing only 1 pound. Expect antiseptic cleansing wipes, emergency blanket, and all bandage types you can think of.
---
GPS Tracker

GPS tracker is a device in the list of gifts you should consider for your car. It connects with your smartphone and help you know where exactly your vehicle is at anytime. Normally, GPS tracker is more advantageous for parents trying to keep tabs on their children but in some cases, for example somebody tries to steal your car, the GPS tracker can be useful for car owners.
---
Bluetooth In-Car Speakerphone
A bluetooth in-car speakerphone is a cool gift for your car that we are sure you need to buy immediately. With a bluetooth in-car speakerphone, you can connect your phone to it and have hands-free calling in your car. Using this device, you can easily and safely talk to people on your phone and listen to music from your phone on car radio. As example, when you are listening to your favorite songs with 3-speaker virtual surround sound and there is a call coming, the bluetooth will read out the name of incoming caller to notice you.
---
Hand Vacuum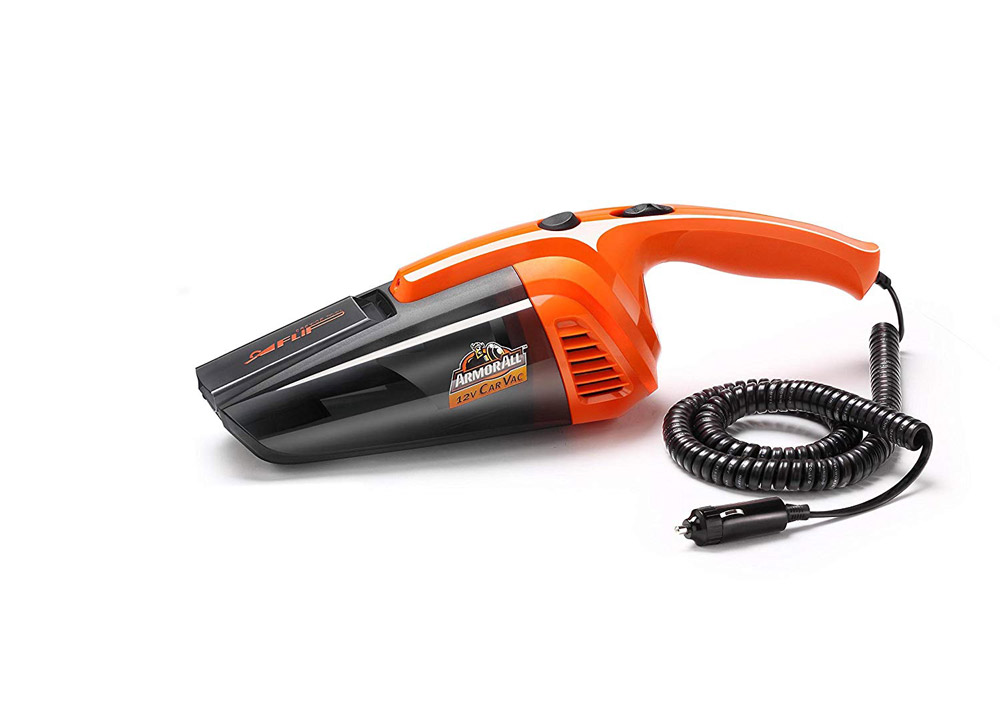 A portable hand-held vacuum is a perfect gift that will always be useful in keeping your car interior clean and tidy on the go. Being able to withstand some seriously heavy usage, cyclonical action keeps the filter clean, while providing powerful suction. The narrow nozzle is ready for reaching all the nooks and crannies in your car interior with ease. A hand vacuum is very handy to clean anywhere anytime. Recommended products for drivers: Black & Decker portable cordless vacuum features long-lasting lithium batteries that can hold their power for up to 12 months with smart charge technology allowing it to use less than 50%. The cleaner is light and easy to maneuver around tight cabin space.
---
Car Cover
Many people don't realize the important role of a quality car cover. If you don't regularly use a car cover, your car will have to face a lot of dangers like bird droppings, debris, dust or UV rays from the sun day by day. As you know, these things will gradually damage your beloved car if you do not anything to prevent them. Luckily, we have car covers – cool car gadgets, a solution covering all these problems. Recommended car covers for drivers: There are a lot of car covers in the market but the one we recommend you to buy is Leader Accessories car cover. This product is made of breathable, air hole materials repelling moisture and keeping your car dry. It also protects your car from dangerous harmful UV rays, bird droppings, and industrial pollutants. Buckle and straps are equipped for this device to protect your car cover in heavy wind.
We wish y'all a Merry Christmas and a Happy New Year in Advance!
Tellz Auto is a full car buying service and easy to use resource that helps people find the right vehicle. We believe the car you ride in is just as important as the home you live in. We offer guidance from start to finish and will help you negotiate a great deal on the perfect vehicle. For more information, give us a call at +1 512-400-4243 / +234 (803) 650-2556 or Get Started here today.
---
---