Top 5 Underrated Active Safety Features You Should Appreciate
Active safety technology in vehicles have evolved significantly since their slow introduction to the automotive landscape. Just over a decade ago in 2004, the most popular of active safety systems so far, was introduced by Volvo in their vehicle lineup who termed it as BLIS (Blind Spot Information System).
Since then, a lot more of technology aimed at reducing driver distraction and mitigating potential road collisions has been introduced in a significant number of cars from several automakers.
There are dizzying amounts of active safety technology available to drivers but there are a select few that deserve more of a spotlight due to their potential to be triggered more often in typical daily driving conditions.
---
1. Blind Spot Detection
Now standard equipment in a surprising number of mass market vehicles such as the Hyundai Veloster, this feature helps drivers detect vehicles in their blind spots and uses either a visual or audible warning to confirm the presence of the vehicle in the spot.
How it works?
Dependent on the manufacturer, sensors are installed on the corners of the rear bumper or the rear wheel arch. These sensors use radar technology to scan a chosen periphery located in the vehicle's blind spot. Once a vehicle has entered that periphery, the sensor is triggered and a symbol located on the corresponding side mirror is illuminated.
In some iterations of the tech, in the event a driver attempts to signal into the corresponding lane with the symbol still illuminated, a warning chime will warn the driver to avoid that action.
---
2. Auto Emergency Braking
Helping to prevent impacts in low to medium speed conditions, this feature uses a combination of front sensors and the vehicle's braking system to bring the vehicle to a quick stop in the event the driver is unable to brake adequately in time to prevent a collision. Honda has recently begun to make this feature standard in all their vehicles sold in North America.
How it works?
A radar sensor placed behind the windshield scans the road ahead by a few feet and continuously sends back signals to the vehicle to monitor proximity to vehicles ahead of you. If in the instance, you as the driver are getting too close to the vehicle ahead without enough of a distance to brake effectively.
---
3. Facial Recognition (Drowsiness alert)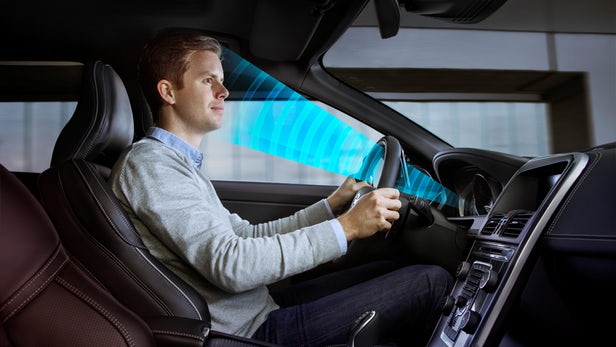 This feature constantly monitors the driver's alertness and should a driver be detected to be distracted in any form, the system sends an audible warning.
How it works?
Using sensors located within the vehicle's interior and the driver's line of sight, the system studies movements on the driver's face (movement of the eyes and head). Should the system detect movements that indicate the driver may be falling asleep or feeling drowsy, it activates and sends an appropriately loud warning to the driver.
In some vehicles, that warning can be extended to a physical vibration in the driver's seat or steering wheel.
---
4. Rear Cross Traffic Alert
Now that rearview cameras have been federally mandated (at least in North America) to be standard equipment in all passenger vehicles moving forward, there are no more excuses not to reverse safely. This system can also be further enhanced by a sub feature called rear cross traffic alert.
This feature uses similar or the same sensors as the blind spot feature to detect vehicles not in your line of sight approaching your vehicle as you reverse. The system detects approaching vehicles from your left or right side.
How it works?
Sensors in the rear bumper use radar signals to detect an oncoming vehicle as you reverse. After detection, a warning is sent to you through the vehicle's audio system.
For some vehicles, the warning is also represented by a visual on the vehicle's infotainment touchscreen detailing precisely which direction the oncoming vehicle is approaching from.
---
5. Rear Seat Detection
Parents have a lot to think about in general and with regards to the safety of their children in vehicles, driving a vehicle which gives them peace of mind when it comes to child safety is important.
Recently introduced to the market, the rear seat detection technology is standard equipment on a range of mid to full-size crossovers including the GMC Acadia. For others, it is an affordable option on compatible trim levels.
How it works?
In the rear seat compartment, a sensor monitors the rear doors. Should you as the driver exits the vehicle and before locking it, the vehicle's horn will sound loudly, and alerts will appear on the gauge cluster area to remind you to check the back seat in case a child has been accidentally left there.
Tips 4 Keeps
It is only going to get better when it comes to what these active safety features can be able to do to promote safe driving habits. Increasingly stringent federal safety regulations are continuously encouraging automakers to perfect these technologies and even begin to offer them as standard equipment on more models of vehicles.
Despite all that, it should always be remembered that, these features serve as a guide to drive more responsibly and it is the driver's sole responsibility to drive in a manner that allows for quick and smart reactions to unexpected obstacles or driving conditions should they arise at any given time.
Tellz Auto can help you find the right vehicle with the top most active safety features. With our full buying-service, all your needs are handled. We offer guidance from step one to final delivery and will help negotiate a great deal on the perfect vehicle. For more information, call us at +1 512-400-4243 / +234 (803) 650-2556 or Get Started today.
---
---